CUSTOMER SUPPORT EXPERIENCE
SERVICE DESIGN & COMPLETE UX/UI WORK
Year
2017
Company
Technomade
Role
UX/UI Designer
Scope
UX/UI
Strategy
Service design
Project management
Mission
Technomade is a CRM applications integrator. As a Digital Experience Strategist at Technomade, I was tasked with redesigning the customer support interface, known as TCS (Technomade Customer Service). However, I also reworked all the touchpoints related to customer service in order to enhance the overall experience.

An interface hardly used by customers
Customers were well aware of the ticketing system but they preferred to contact the support team by phone or e-mail rather than via TCS.
Business goals:
Reduce the spent by the team to explain how TCS works
Keep track of the history and traceability of customer requests, as everything is then centralized in CRM
Better track performance of the tech team in resolving anomalies and bugs, in line with contractual TMA (Third-Party Application Maintenance) obligations.
Provide high-quality customer support and improve the customer satisfaction
An interface too complex for our users
The TCS user doesn't have the profile of someone who uses software and other tools with great ease. The interface didn't seem intuitive enough for them to use it easily.
I was able to observe user's during interviews, which enabled me to identify issues such as prioritization and hierarchy of information. We then got together as a team for an experience map workshop to identify the bottlenecks customers might encounter in their experience with Technomade's support service. Before the workshop, everyone tried to gather as much customer feedback as possible. Anything that could help us better understand the customer (e-mails, anecdotes…).
Designing the solution
One of the points of contact with the customer in support was the relationship with the developer teams over the phone. Before embarking on the interface design, we brought the whole team together to present the TCS redesign project and explain best practices for handling support requests.
User goals I had in mind for the redesign:
Be autonomous in the use of TCS
See the progress of their support request
Know their ticket consumption
Create requests more easily (authorized copy/paste, automation of known data…)
Distinguish rapidly the requests that require an action/response from them from those that are being processed by Technomade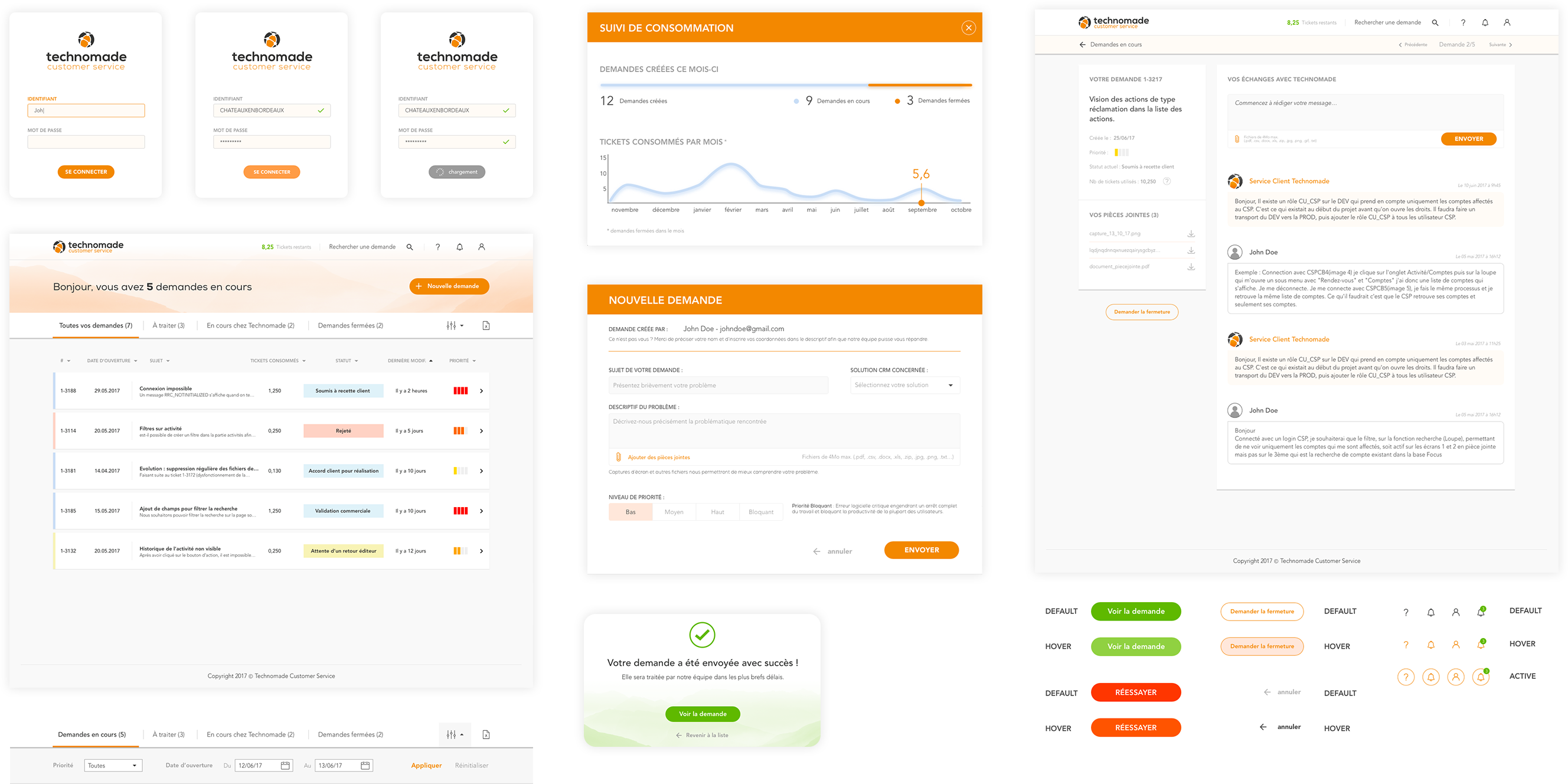 It's much more clear! I land directly on what is interesting to me, the tickets are sorted by status, which allows me to see right away the ones that require my attention.